Bed Bug Removal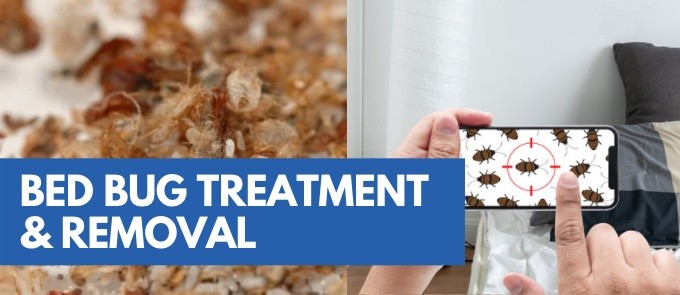 Do you have bed bugs? Our professionals can be your go-to company for bed bug treatment, extermination, or prevention. Professionals should only do bed bug removal due to the potential harm that bed bugs can cause. If not controlled properly, the infestation could grow exponentially.
No one wants bed bugs in their home, so why not have bed bug removal done by bed bug exterminators? Our exterminators are your go-to company that can help.
When bed bugs are left untreated, they will continue to reproduce and cause more harm to the people living in your bed bug-infested property.
Give us a call today at (888) 408-2399, and we will send bed bug exterminators out to your bed bug-infested property as soon as possible!
What Are Bed Bugs and How Did I Get Them?
Bed bugs are small parasitic insects in the cimicid family that feed exclusively on blood. They grow about 5mm long in length and have flat oval-shaped bodies.
Bed bugs aren't difficult to spot and can be seen with the unaided eye, but they often hide in bedding, mattresses, bed frames, and box springs.
Bed bug infestations usually occur around or near the areas where people sleep. This is because bed bugs are most active at night and like to crawl up bedding and bite exposed skin.
The first step to bed bug removal is to inspect bedding and furniture thoroughly. Examine bed frames, bed posts, headboards, bed skirts, mattresses, box springs, bed pillows, carpets, behind wallpaper, electrical outlets, or any other potential hiding spots for bed bugs or bed bug eggs.
If you find the bed bugs themselves, they should be vacuumed up in a bag before disposing them in an outside garbage can (you should not release them into the environment).
Another way to remove bed bugs is with insecticides. Products that contain permethrin will kill adult bedbugs on contact, but they're not effective against bedbug eggs.
Speak With our Pest Control Expert Today!
Common Signs of Bed Bugs in Your home or apartment
Bed bugs are difficult to find because they hide in such small areas, but seeing one is the most reliable indication of their presence.
They're little, lively at night, and smart enough to conceal themselves when in danger. Instead of searching for the bugs themselves, many individuals first detect bed bugs from symptoms such as:
Bites – Bites from bed bugs produce flat, red skin marks similar to those caused by other insects. The bites may be itchy and painful for some people while having no signs or symptoms for others. The location of a tick bite on the skin can be more random and unpredictable than mosquito bites.
Fecal Spots – They can leave dark brown or reddish stains on mattresses and other bedding. These stains will be found in the seams of fabric and upholstery.
Discarded Skins – Bed bugs molt as they develop. The shells left over after molting may accumulate beneath beds, sofas, and chairs, as well as around baseboards.
Musty Odor – The bugs' pheromones will cause a moldy scent as the infestation advances. This smell indicates that the infestation is getting out of hand.
Bed Bug Inspections
Do you have a bed bug infestation? You may not know it, but if you have been noticing bites or welts on your body and the bugs themselves in your bedroom, then the chances are good that you do.
Bed bugs can be difficult to find as they're small and hard to see with the naked eye. That's where we come in! We offer professional bed bug inspections for homeowners who suspect an infestation is present.
The process begins with a thorough inspection of all surfaces in the room, followed by a tailored treatment plan for your needs.
If there are any signs of active infestations, our technicians will also recommend reducing future risks from these pesky insects before leaving the property.
Advanced Bed Bug Treatments
Bed bugs are resilient to the typical pesticides that are used against them. However, bed bug-specific insecticides are the most frequent treatment choice and are still viable in many situations.
We also provide heat treatments and freeze treatments if pesticides aren't working or if a chemical-free extermination technique is required.
The treatments guarantee that bed bugs are exterminated from a property, eliminating the pests as well as eggs in every difficult-to-reach hiding place.
We use specific fans to raise the temperature of a space to 130 degrees, making it unhabitable for bed bugs with heat treatments.
The heat will kill any insects or eggs even if they are not within your reach. Smaller rooms are ideal for spot heating in hotels because they may be treated separately and are most frequently utilized in commercial buildings.
Speak With a Bed Bug Professionals Today!
Commercial Bed Bug Control
Bed bugs are more likely to bite at night and prefer to live near their hosts. It's why they're so prevalent around beds.
Bed bugs can nevertheless begin an infestation if they go somewhere with no beds and will seek another location to hide.
Bed bugs, for these reasons, are more frequently discovered in hotels and houses. However, they may be found in a variety of commercial structures, such as:
Hospitals
Offices
Theaters
Clothing Stores
Restaurants
Schools and Universities
Consignment Stores and More
Bed bugs can be found almost everywhere, and they may spread to just about any property. It's quite difficult to pinpoint the source of your infestation.
Call our Exterminators to Get Started with Bed Bug Removal
Pests are a major problem in many homes and offices these days, but they don't have to be. We can help you get started with bed bug removal so that your home or office is pest-free!
Our exterminators will come out, assess the situation, and create an effective plan of action that will keep pests away from your property.
Bed bug extermination is just one part of extermination that your local pest control specialists are finding to be more required. Other services we provide include Termite Treatment, Cockroach Removal, Ant Removal, and many more.
Call us today at (888) 408-2399 to schedule an appointment!
Bed Bugs Frequently Asked Questions