Roach Exterminators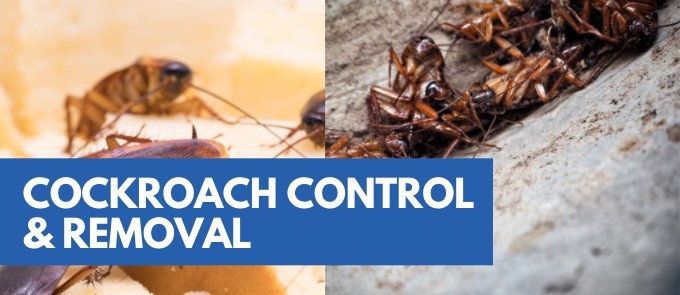 Cockroaches are all around us, whether we know it or not. Cockroaches are one of the most widespread creatures on Earth, with an estimated 4,600 species and 25-30 living in human dwellings.
Roaches are a nuisance in any environment, but finding them in your house is especially unpleasant. They can carry several diseases and are therefore dangerous.
Cockroaches can spread germs and filth throughout your house, putting your company at risk of losing its reputation and even shutting down. It is crucial to hire a professional cockroach control specialist.
Our work is not done until your cockroach infestation has been entirely eradicated with our exterminator.
To discover how our specialists can help your house or business benefit from their pest control services, call us at (888) 408-2399.
Common Types of Cockroaches
Cockroaches are hardy creatures that can endure anything and go without food and water for long periods of time. Termites are related to them, although they are often larger and may reach up to 2 inches in length depending on the species.
Cockroaches come in a variety of shapes, sizes, and colors. There are more than 4,600 different species of cockroaches in the world, but only five are considered pests. These are:
American Cockroach
American cockroaches, which are frequently mistaken for water bugs, are the largest species of roach. Because roaches have such a huge appetite, it's not unusual to see them out during the day.
Brown-Banded Cockroach
Brown-banded cockroaches are commonly found hiding in cracks and crevices, and they despise light. This is why you may see them scampering about at night.
German Cockroach
Cockroaches that reproduce quickly can rapidly take over a home. German cockroaches dislike the cold and, as a result, seek refuge indoors. Cockroaches are difficult to get rid of because they breed rapidly. Prevention is the only solution to avoid an infestation.
Oriental Cockroach
Oriental cockroaches are generally considered to be the filthiest of all species. They will consume slime that collects in the sewage line. These cockroaches prefer to hide in dark areas, moist areas.
Wood Cockroach
The good news is that wood cockroaches may be found outside, where they can eat organic waste. Wood cockroaches are also unlikely to spread illness. They prefer to dwell in areas with loose bark and decaying wood.
Speak With a Roach Exterminator Today!
Signs of Cockroach Infestation
Cockroaches are nocturnal creatures, so you'll rarely see them during the day. If you start noticing certain signs of their presence around your home, though, it could be an indication that you have roach infestation on your hands.
The following are 7 of the signs that indicate roaches might be infesting your residence:
Visible roaches or cockroach droppings
An unpleasant, musty odor
Cockroaches congregating by the kitchen sink, as they prefer moist and dark areas such as beneath the sink and around pipes.
Evidence of roach eggs in hard-to-see areas of your home, such as behind picture frames and inside broken light fixtures.
Roach feces on the floors or walls look like gritty pepper or sand, but they can be easily wiped off with a wet rag.
Evidence of roach nests – these will be built from particles by saliva and shed skin.
Roaches that are forced to run for cover when you turn on the lights are a good indication that you have more than just one or two roaches in your home.
Why Do I Have Roaches?
Cockroaches can attack any building, not simply homes and businesses. They've been found on ships and even planes. They move into a location looking for food, water, and shelter, just like most pests.
Cockroaches are commonly associated with cleanliness, but their presence does not always imply a filthy environment.
Any house may offer the little water and food that a roach needs to live, which means that cleaning alone is rarely enough to eliminate roaches.
Cockroaches are more drawn to a plentiful supply of food and water. Pests are attracted to improperly stored food, crumbs, and waste on surfaces. A leaking faucet or pipe might provide a source of water.
Our One Time Cockroach Extermination Services
When you see cockroaches in your house, they must be eliminated as soon as possible. Some insects may be killed by vacuuming and sprays, but the infestation is generally not eliminated.
Cockroaches are mostly nocturnal and conceal themselves well, spending the day in tiny crevices, wall voids, and dark corners that humans can't reach.
To treat cockroaches, we must first determine the species of the infestation. We then use the most recent potent pesticides to get rid of every cockroach and egg on a property.
Got Cockroach Infestation, Call Our Expert Today!
Commercial Roach Control Services
Roaches are a problem in every location, but a roach infestation in a business may have serious ramifications. Customers can be turned away. They may also go against health standards. A roach infestation in your business may lead to missed opportunities, fines, and penalties.
We deal with both large and small businesses for long-term and one-time roach control. The most effective form of control is continuous because it prevents roaches from coming into your facility in the first place. Properties we serve include:
Restaurants
Retail Stores
Hotels
Factories
Warehouses
Hospitals, Schools, and More
We may also provide discreet and overnight cockroach control services for commercial properties, so your clients won't notice you're getting rid of the bugs.
We also provide emergency service for urgent extermination needs 24 hours a day, seven days a week.
Call our Exterminators to Get Started with Cockroach Removal
We know that cockroaches can be a big problem for homeowners. We're the experts on getting rid of these pests and more!
Our technicians will come out to your property, assess the situation, and create an effective plan of action that will keep pests away from your property.
Whether you have a major infestation or just one or two roaches in your home, our team is committed to providing professional service with a personal touch.
Call today at (888) 408-2399 to schedule an appointment!
Roach Frequently Asked Questions