Termite Control & Treatment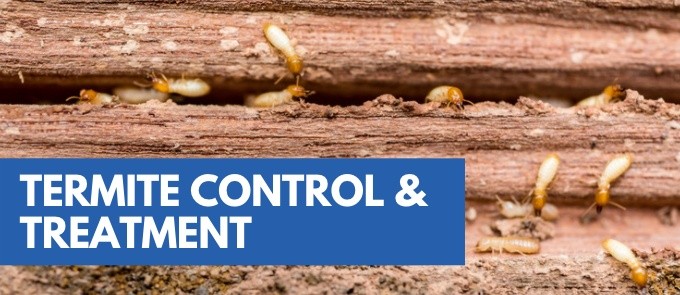 Termites can wreak havoc on your home and property. They feed on wood 24 hours a day and can cause your home to collapse. Plus, termites don't just eat wood – they also damage wiring, insulation, and the structural components of a house as well.
With the average termite repair costing around three thousand dollars ($3,000), it's in your best interest to invest in professional termite treatment and prevention.
They can cause serious damage to your home in a concise period of time, which means that you need to act quickly once you've discovered a termite infestation on your property. That is where our professional treatment company comes in.
We provide termite control for your home and property, which means you can leave all of the work to us.
Why Look For Our Termite Control Services?
Termites are a huge threat to homes and properties, which is why it is so important to invest in some termite control and treatment services.
Termites are extremely destructive insects that live underneath the ground where they establish their nests.
Professional pest control technicians can inspect your property and help identify any termite or wood-destroying insect problems you might be having.
They can then figure out the best possible solution to help you get rid of termites for good.
Speak With a Pest Control Expert Today!
What Makes Our Termite Exterminators Stand Out?
We take pride in our ability to provide termites treatment services customized to meet each client's individual needs. We understand how hard it can be to deal with termites.
That's why we make the process as easy and painless as possible by handling everything for you from start to finish, including:
Inspecting your property to find out whether or not you have a termite infestation on your hands.
Treating the problem so that you don't have termites any longer, offering ongoing termite control services will help keep termites off of your property.
How Do Our Services Work?
Whether you are looking into residential or commercial pest control services, they must be done right.
Professional inspectors will inspect your property to find any problems caused by termites and wood-destroying insects.
They'll be able to give you a customized treatment plan and help you figure out which services will work best for the property and the individual needs of your family or business.
Benefits of Termite Control & Treatment Services
There are many benefits to getting termite control and treatment services, including:
Improved hygiene and sanitation
Protection against structural damage
Less stress as you don't have to deal with termite issues yourself
Fewer health problems, such as allergic reactions or asthma, thanks to the absence of dust and pests in the air
Improved value to your property. It will be worth more if you can prove it is termite-free.
It saves you time and money because termites can be expensive to remove, repair, and replace
A healthier environment for you and any pets or children that live in your home. This is because termites can cause damage to the foundation of your house and the wood built into it, such as floorboards, walls, and attic insulation.
Who Can Benefit from Termite Inspection & Treatment?
Our treatment services can greatly benefit just anyone who has a home or property they want to protect from termites and other wood-destroying insects.
This is why our professional termite control and treatment services are truly beneficial no matter who you are or where you live.
We can provide you with termite control that will fit into your budget and help protect your home for the long term.
Speak With our Termite Professionals Now!
Local Pest Control You Can Trust
We want to make sure that you and your family feel safe in the environment we've provided.
That's why our technicians will come out, assess the situation, and create an effective plan of action that will keep termites away from your property!
Our team is committed to providing professional service with a personal touch. You won't find another company that cares more about their customers than us.
Call us today at (888) 408-2399 to schedule an appointment!
Termite Frequently Asked Questions