Wildlife Control & Removal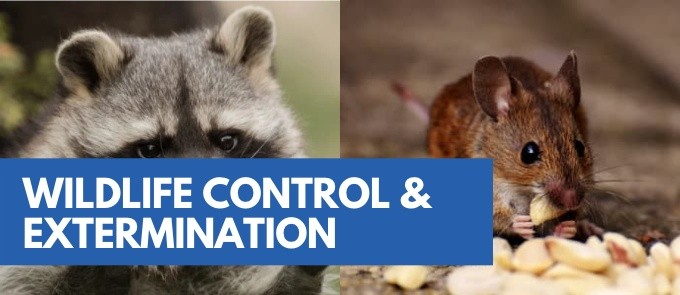 Wildlife can cause a lot of trouble for homeowners. From raccoons in the attic to squirrels in the chimney, many people are unaware that they have an animal living with them until it's too late.
Only then do they realize how difficult and expensive it is to get rid of these animals on their own.
Luckily, some professionals specialize in wildlife control & removal services that will ensure you're no longer troubled by your furry houseguests.
Our professional provides homeowners with affordable, effective nuisance wildlife pest control, removal, and control services for residential and commercial customers using humane wildlife control methods.
Yes, we are based in your local area and can assist with emergency animal control near me. We provide 24 hour emergency wildlife removal services.
Speak With an Exterminator Today!
OUR TOP WILDLIFE REMOVAL SERVICES
Racoon Removal
Raccoons are fierce, and in rare circumstances, they can spread diseases such as rabies. They also love living in dark areas of houses, as the warmth of a house provides them with safety and security.
We may also seal their entry points to ensure they don't return and guarantee that raccoons are gone from your property.
Squirrel Removal
Squirrels can be found almost anywhere and are generally non-threatening. But they can also settle in homes and commercial properties, where they may chew on cables and leave droppings all over the house or workplace.
Our squirrel control services are a fantastic method to ensure that squirrels are safely removed and kept out of your house.
Rodent Removal
Rodents are a common problem for homeowners. They can cause damage to your home and family, contaminate your food storage, create an odor with their droppings and urine, and carry diseases that can make you sick.
Rodent removal is necessary when rodents have entered the building or when rodent infestations cannot be eliminated by non-chemical means such as sealing holes in walls, installing repellants, or repairing damaged areas.
We can guarantee that any rats on your property are eliminated with commercial and residential animal removal services!
Bat Removal
Bats like to reside in attics, crawl spaces, and other hidden locations. They are great for the environment, but they are extremely detrimental to houses since they bring their own problems and produce feces (guano) that can cause illness.
Bat removal is our specialty. We offer comprehensive bat removal services that leave them unharmed and off your property.
Possum Removal
Every wildlife removal professional on the team understands the many obstacles of eradicating possums.
Whether the possum is dead or alive, our team will remove it safely and ensure that future possums are prevented from coming in. This wild animal must be removed from your property safely and humanely.
Speak With Our Wildlife Control Expert Today!
Bird Removal
Birds may congregate around a home or business and use it as their refuge, leaving droppings all over the ground.
Our team of expert bird control experts can assist you with any animal problem.
Iguana Removal
Many areas of Florida are home to iguanas and Argentine tegus. We capture and remove iguanas safely and humanely.
We also offer preventative measures to keep iguanas off your property and pool areas, such as tree wraps and preventative sprays.
Call our Exterminators to Get Started with Wildlife Removal
The best way to avoid having pests invade your home or business is by hiring an exterminator.
Our team of professionals is ready and waiting to help you start wildlife removal, whether it's mice in the attic, ants outside the house, or raccoons inside the chimney.
We've been providing quality pest control services for years, and we take pride in delivering professional service that exceeds expectations every time.
Call us today at (888) 408-2399 to schedule an appointment!
Wildlife Frequently Asked Questions